hi bloggiepals,
last nite, finally got the news efurrybody has been
waiting..and waiting for--
ROCKY has been SAVED!!!!
(get the 411 on Khyra's
blog
)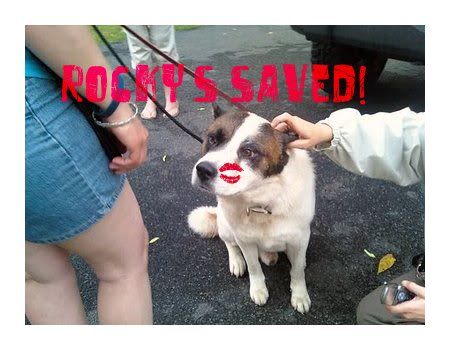 whew!
mom woke me up from my usual coma to tell me.
then, i had to go see that runaway rocky fur myself.

let's show all those beans who nevah gave up on woo a thank you-
the only way akitas know how-- boogie!



my wagger can't stop wigging. So happy it ended well.
not to mention, this definitely makes up for last week.
i mean, Rocky was missing. and
i had to visit my vet.
it was time to recheck my thyroid levels and my weight
after taking levothyroxine for a month.
(akitas are prone to hypothyroid- can effect behavior, energy-hyperactive or lethargy,
weight problems, and possible seizures.)
(oh no.. pleaze no ant-eater photos..
this is embarrassing)
at my last appointment,the scales were off by 10 lbs.
(not really my fault)
ok tula, today your weight is
- 4 lbs!
you now weigh 110 lbs.
play bow, play bow! thank you, thank you!
i'd like to thank my foodmanager and my bottle of purple pills-
next up, the vet tech lady pulls out dreaded needle. gulp. this is nevah pretty.
mom positions me right against the wall, holds onto my collar & feeds me.
the vet tech lady goes right at me, yanks my back leg, poke poke poke- grr grr grr.

she poked around for like a kazillion years. nothing! dry! nada!
What? she had the nerve to ask if she could go for my jugular.
um...mom didn't think that was the best idear.
the expert, the real vet was called in and got the job done.
they both were furry nice and told mom i'm not the worse patient.

anywoo, wanted to let you know- I survived! I'm ok.
the meds did their trick- my thyroid levels are in the normal range.
(no noticeable differences in lethargy or behavior, just weight-loss)
after the torture, a stop at one of my favorite parks was a must.
with the temperatures rising to 90+, i quickly found my way to the coolest spot
in the gazebo.
and practiced producing
mango
-sized slobberz.
how's this?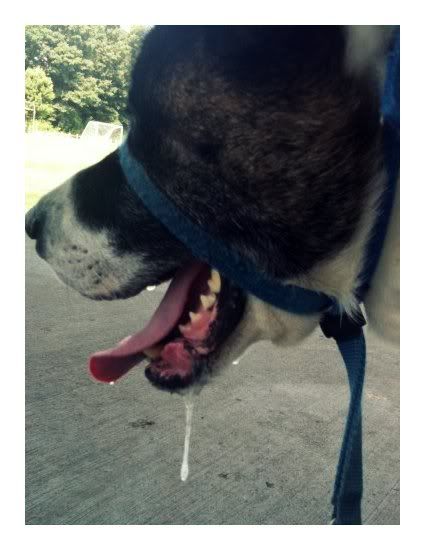 still growing.. lookie, it might touch the ground!
can't wait to show Mango at our next grad skool class.
(if i can get him to stop staring at my muscle butt & look at my face.)
he has been in our last two classes- singing, sudzing,
and mostly trying to replace Norwood as the teacher's pet.
(read all about on his bloggie)

all's good again.
stay cool,