hi bloggiepals,
well, it was that time of year again.
Annual exam & vaccinations... for moi, it's my worse nightmare.
i do NOT like to be handle. touched. looked at.. by the vet at ALL!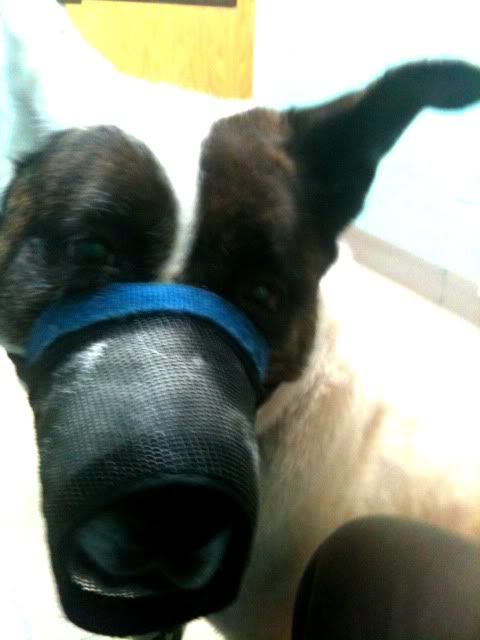 look at me, i look like an anteater with this tubey thing on my face with a GL!
mom says safety for everyone comes first, not fashion.
guess she's right, b/c the minute the vet entered..
i gave him my most welcome, how've you been greeting-
low grrrrrrrrrrrrrrrrrrrrr.
which set the tone for the exam.
luckily i do get a feedbag of chicken in my face
the entire time. mom makes sure to keep my face in it
so i don't want to eat the vet.

i mean he's trying to score a homerun when
he didn't even work to get to first base- if you know what i mean!
then i heard all my secrets being discussed right in front of me..
okay, so i gained a few pounds. + 10 = 114 lbs.. big deal
and yes, i sleep alot...
and do not like to exert any amount of energy on walking, moving..
unless it involves foodies.
is that a problem?
the vet thought it could be side effects of my medication & other factors.
he ordered my meals to be cut in HALF (rut roh)
and that all my treats were ok -since they're given for a purpose (kinduv - training, right)
but he decided to check my thyroid.
yep, got a call the next day, that was the culprit.
a very low thyroid can cause weight gain, lethargy & aggression in some dogs.
most large females. huh? moi?!
the prescription: levothyroxine medication
we'll see how it goes.
so to make it up to me..
mom scheduled an appointment with
JULIE
!
my animal massage therapist.
she's helping me get use to being handled & touched
(it's purely therapeutic reasons-- ookay!)
here's my greeting for Julie..
she's what you call a
WOO WOO FRIEND
!
thanks julie.. now i'm loose as a goose:)
This is also my entry in
Norwood's Pawdance Film Festival
Visit his
bloggie
for more info!
Happy Sunday,