hi bloggiepals,
i

was

on the Nice List! Woot Woot!

funny, i'm just not ready for Christmas to end.

who still has the Xmas spirit? Gimme a Paws up!
who wants to watch me open more presents?
all four of my toe toes are up.. majority wins.

ok, sit, down, & look here. (training talk)

HURRY HURRY HURRY!


Santa's at the door.. wait, he looks awfully like

my Aunt Bee (Debi, Norwood's mommie)

with a bag of goodies-- well, come on in!
(

advisory

: inappropriate slobbery comments may be posted
as a result of
displaying my buttocks w/o pantyloonies.
unfortunately,

no encouragement with pretty bows on my foo foo are needed either)
there's more..
a pressie also came from my bestest bloggiepals,
Bruce the Cat & Sharon!

these banana chips wrapped avec duck are fancy & tres gourmet.

good taste bruce!

AND gift opening isn't the same without a little sing-a-long..
i know, Jingle Bells! (the new version)


Nom Nom Nom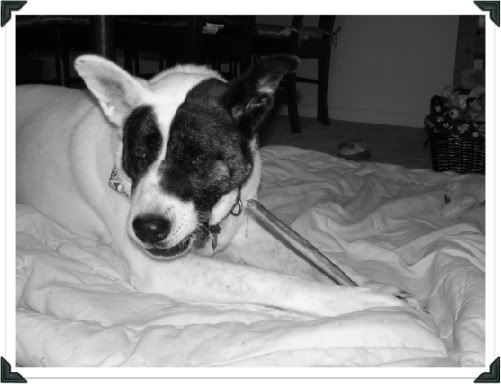 Nom Nom Nom
Nom Nom Nom Nom Nommm
Nom Nom Nom ..Nnom nom Nnom nom nom nom nom
hey.. opps keep going.. got to get another one.
SPECIAL KISSIES GO OUT TO MY CUZIN, NORWOOD & AUNT BEE
and to Bruce the Cat & Sharon for the wonderful pressies too!
only one word can sum up this Christmas- FUNBALLS!
the parties over, you can go home now!
ho ho ho,